Summer is over. All but officially. But we're looking forward to fall for lots of reasons. One of them, the return of Eminem! Mostly because his latest single, "Berzerk," proves that Shady's back (tell a friend.) He's blonde again, and reenergized, and having fun, up to his old antics—making naughty jokes at the expense of famous pop culture figures. "All I know is I fell asleep and woke up in that Monte Carlo," he rhymes. "With the ugly Kardashian/Lamar, oh sorry, yo/We done both set the bar low."
It's bars like these that have helped define Eminem's career since he stopped rapping like AZ and released The Slim Shady LP. He ushered in a big change in rap. While pop culture has always been a huge part of American life, and as television, and then the Internet, brought our favorite (and least favorite) celebrities into our daily collective consciousness more and more ubiquitously, rap lyrics didn't reflect this to the extent that do now until Eminem started writing his rhymes like they were rippsed from the tabloids.
His debut introduced this stylistic tic to the masses. And even as Em has proved he belongs in any room full of superstars, that's never stopped him from lobbing spitballs from the back. He's poked made fun at everyone, from Bill Clinton toPamela Anderson, George Bush to Jessica Simpson. Although the pool to choose from in olympic-size, we picked The 10 Best Eminem Celebrity Disses.
10. "Cause if I ever stuck it to any singer in showbiz/It'd be Jennifer Lopez, and Puffy you know this!/I'm sorry Puff, but I don't give a fuck if this chick was my own mother/I still fuck her with no rubber and cum inside her/And have a son and a new brother at the same time/And just say that it ain't mine."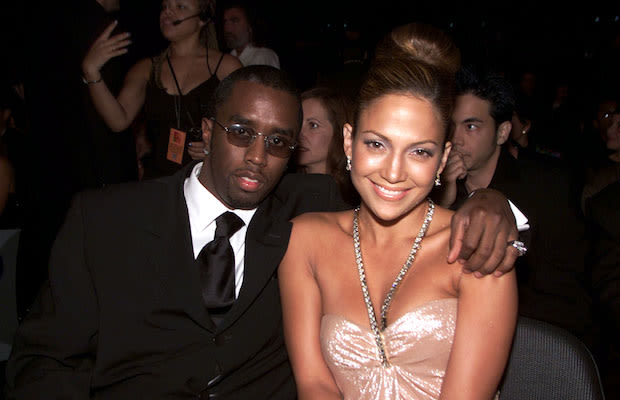 Song: Eminem "I'm Back" (2000)
Album: The Marshall Mathers LP
Label: Aftermath/Interscope/Shady
You could argue that this isn't necessarily a diss. It might even be a (crude) compliment. Regardless, it's straight rude to rap about having sex with another dude's girl in such graphic detail, even if every guy has had a similar fantasy.
Click from 1 to 10 to see all .
Source : Complex.com